SPECIAL MOMENTS
Everyone here at TEAM Multi-Academy Trust is proud of the educational community that has been created. We are extremely proud of all of our schools and the amount of collaboration that is achieved year-on-year. It is through this that many friendships have been created between the children, staff and governors. As a Trust, we believe it is vital that we continue to create special moments where lifelong memories are made.
Please also take a look at our termly Trust Newsletter which includes more highlights and special moments along with recent Trust news and updates. (Click on the link to the right).
Teachers Rock Concert at Exeter Cathedral - December 2023
Wow! I was blown away by the children's performance in Exeter Cathedral on Friday evening; I am so proud of every child who took part. The cathedral is a very big, daunting venue to perform in and some of the children were extremely nervous, but they all got onto the stage and performed so hugely well done to all of them. Mrs Brayley
We were also featured on BBC Spotlight! - please follow this link to view
Pilton Bluecoat Academy... - Team Multi-Academy Trust | Facebook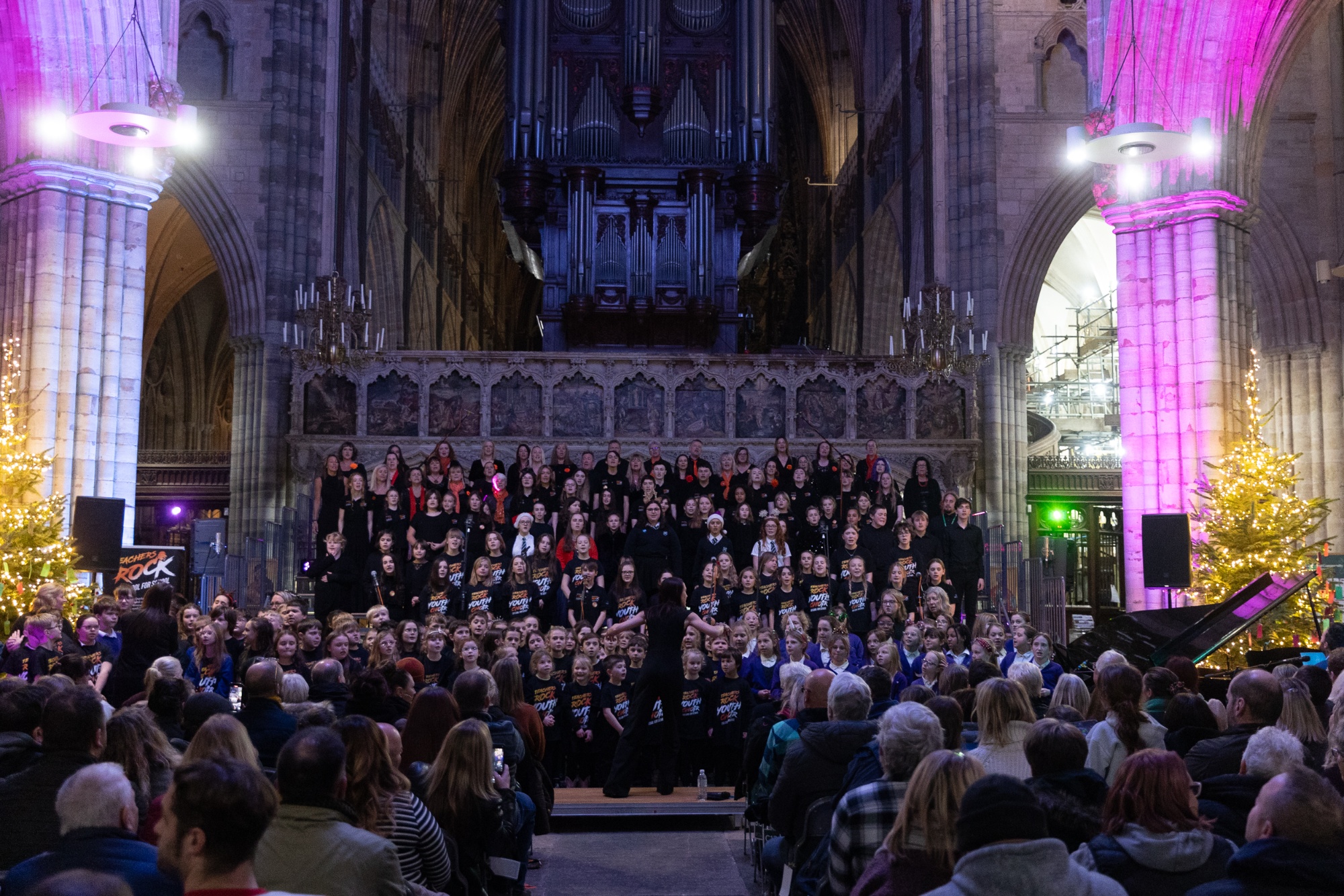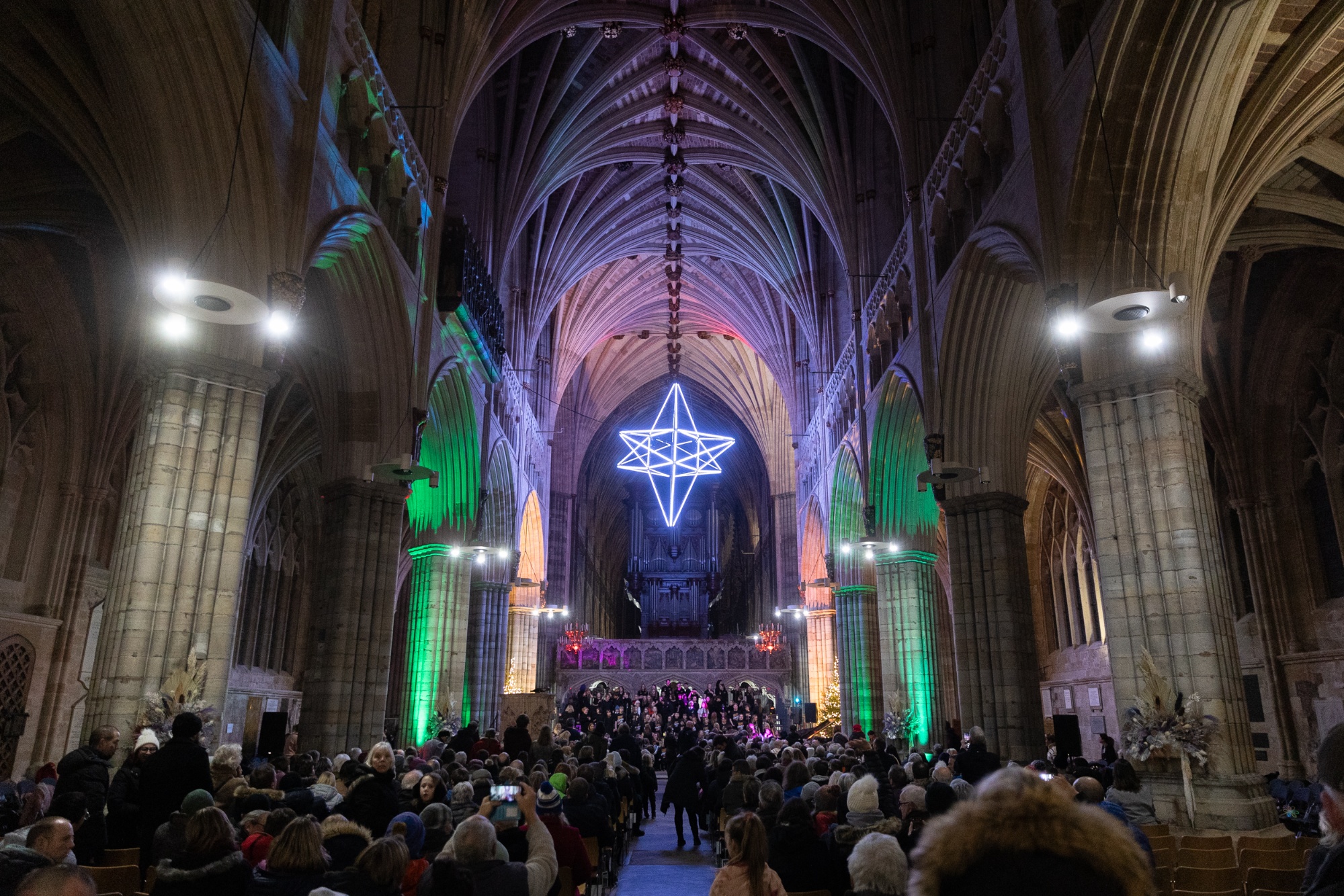 Wales Vs The Barbarians Rugby match at the Principality Stadium, November 2023
TEAM Multi-Academy Trust Celebrates a Day of Rugby, Resilience, and Community
On a brisk Saturday, an exuberant group of over 100 pupils from across the nine primary schools of TEAM Multi-Academy Trust embarked on a journey to Cardiff's Principality Stadium for an extraordinary event that epitomised the ethos of our Trust: Building Learning Power, Building Futures, Building Community, and nurturing self-esteem and well-being.
As part of our ongoing commitment to these drivers, we were treated to a thrilling display of international rugby where Wales triumphed over the Barbarians with a score of 49-26. Beyond the exhilaration of the match, the event held a deeper significance—it was a grand stage to honour the careers of Welsh rugby titans Leigh Halfpenny, Justin Tipuric, and Alun Wyn Jones, who left his mark with a rousing try for the Barbarians.
Our pupils, adorned in their team colours, joined a packed stadium in a heartfelt rendition of the Welsh national anthem. This shared moment of pride roared through the stadium, embodying our drive to build community and foster a sense of belonging. The spectacle of fireworks that followed was not just a feast for the eyes but also a spark for the imagination, aligning with our aim to build futures by inspiring aspirations amongst our young attendees.
The ten tries scored were not just a part of the match; they served as a live demonstration of resilience and learning power—the kind we instil within our pupils. With each play, the children observed strategy, teamwork, and determination, reinforcing our belief in learning through experience.
Building self-esteem and well-being stood at the core of this experience. Cheering for their heroes, witnessing their sportsmanship, and being part of a supportive crowd gave our pupils a profound sense of confidence and joy.
This event was more than a day out; it was a testament to the power of our community. Pupils from different schools came together, forging friendships and creating a shared tapestry of memories to cherish. It was a celebration of the spirit of rugby, the passion for Welsh heritage, and the embodiment of our Trust's dedication to developing well-rounded, resilient, and community-minded individuals.
We extend our deepest gratitude to all the staff and volunteers who made this day possible. It was a true representation of TEAM Multi-Academy Trust's vision in action—building learning, futures, community, and wellbeing through a memorable collective experience.
#TEAMMATRugbyDay #BuildingCommunity #InspiringFutures #RugbyMemories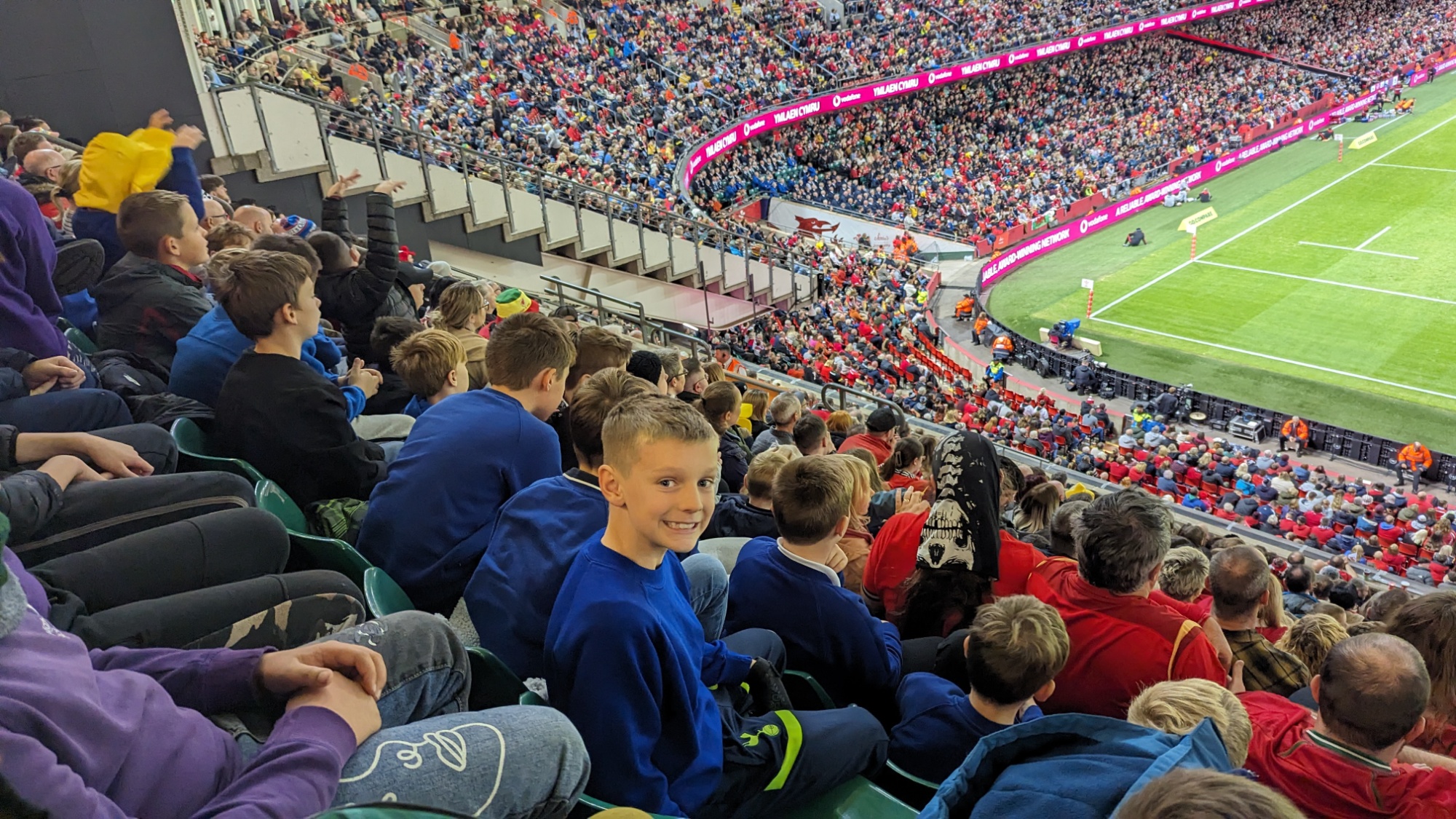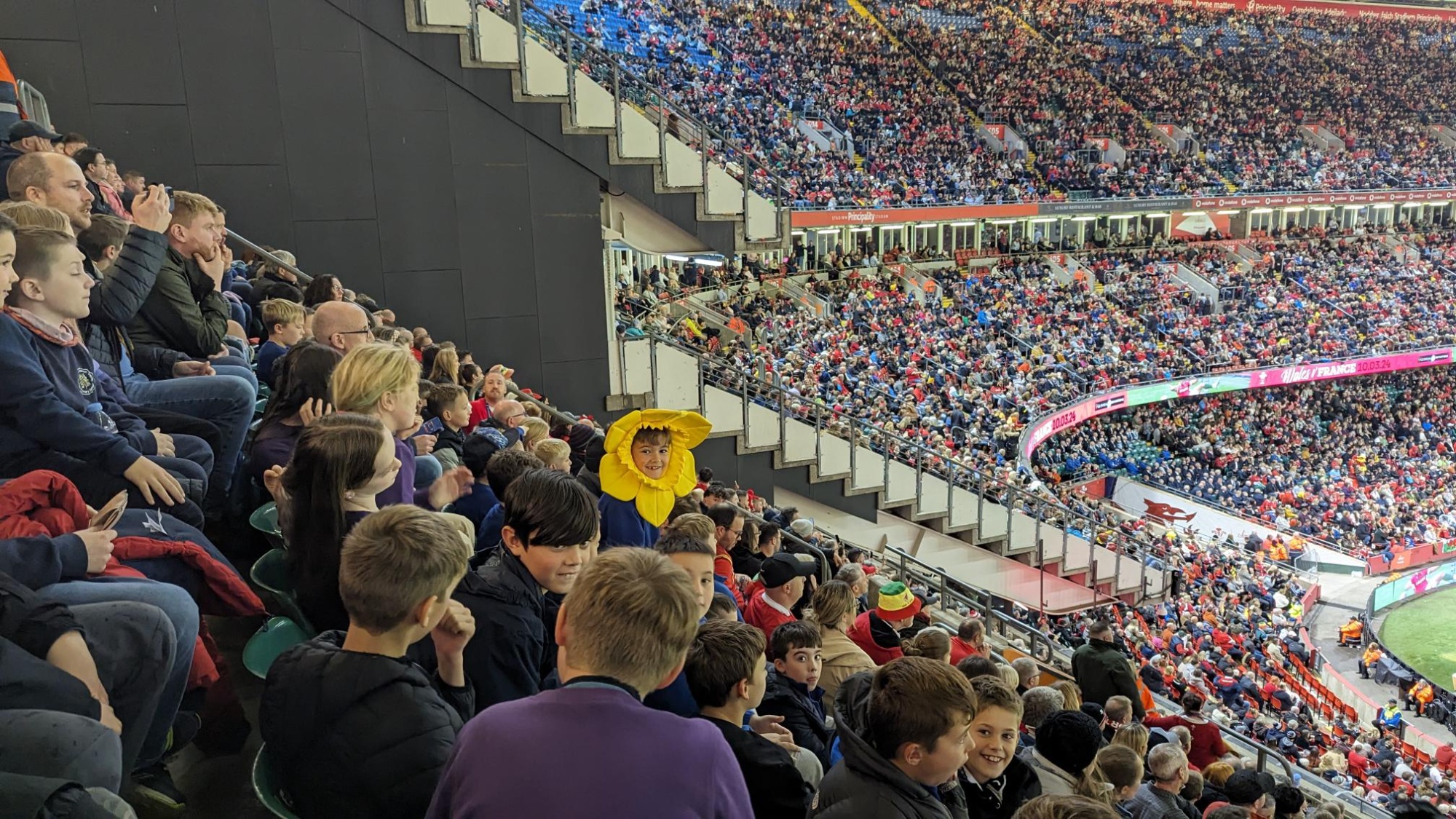 Passionate about Art day at High Bickington - June 2023
I just wanted to say an enormous thank you to everyone who was able to come to our first Passionate about Art Day. There was something very special about bringing 'like-minded' children together to be creative. The talent and capabilities across the Trust were truly exciting.
Laura and I planned the day around drawing and sculpture and hoped to inspire the children with other artist's work. We wanted to offer art opportunities which aren't normally delivered at school, to provide extra experiences. We hope we achieved that! With the feedback from the children and the general feel around the whole day, the effort that went into the TEAM day was well worth it.
Holly Laurence - Teacher at High Bickington Academy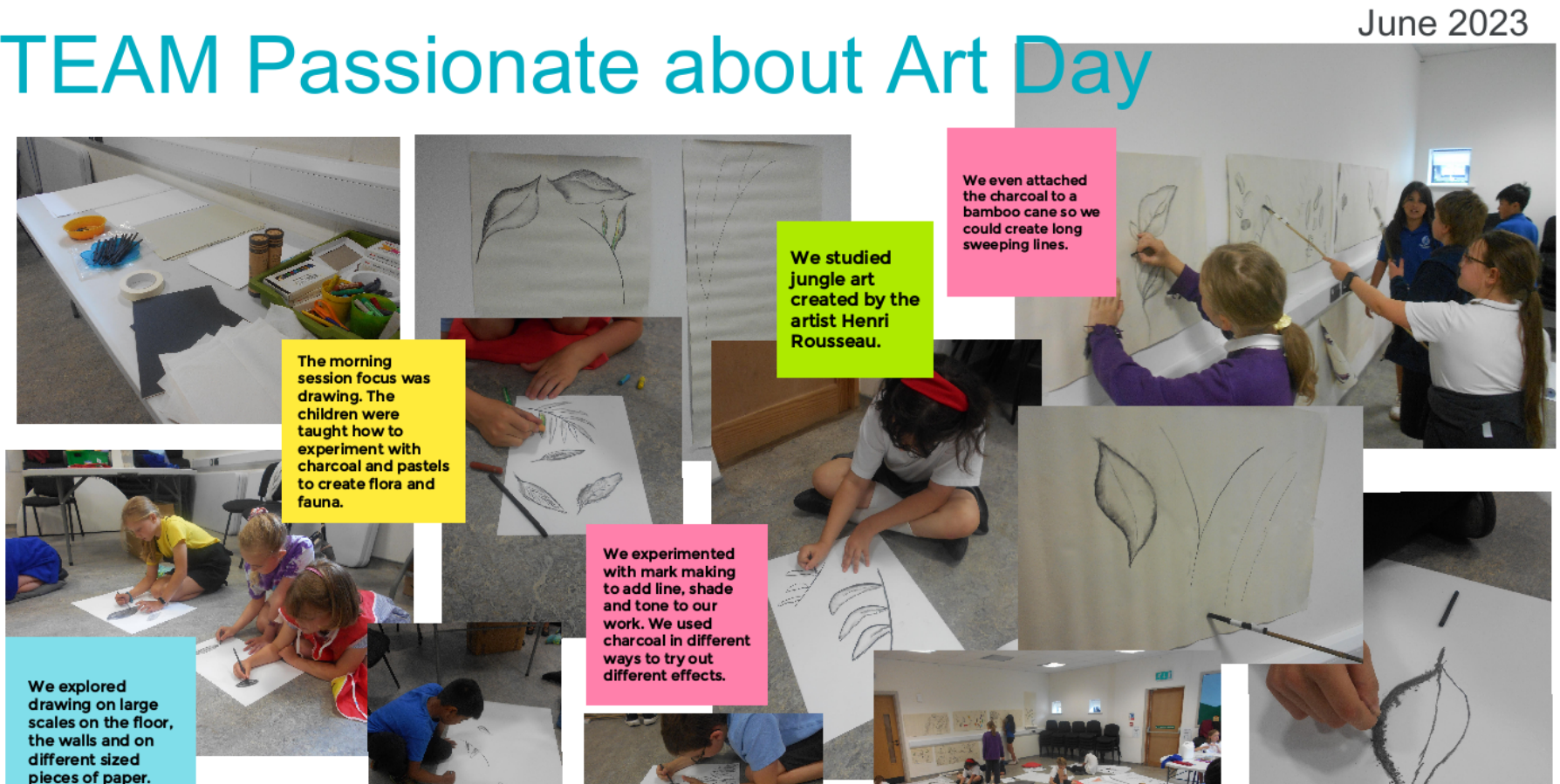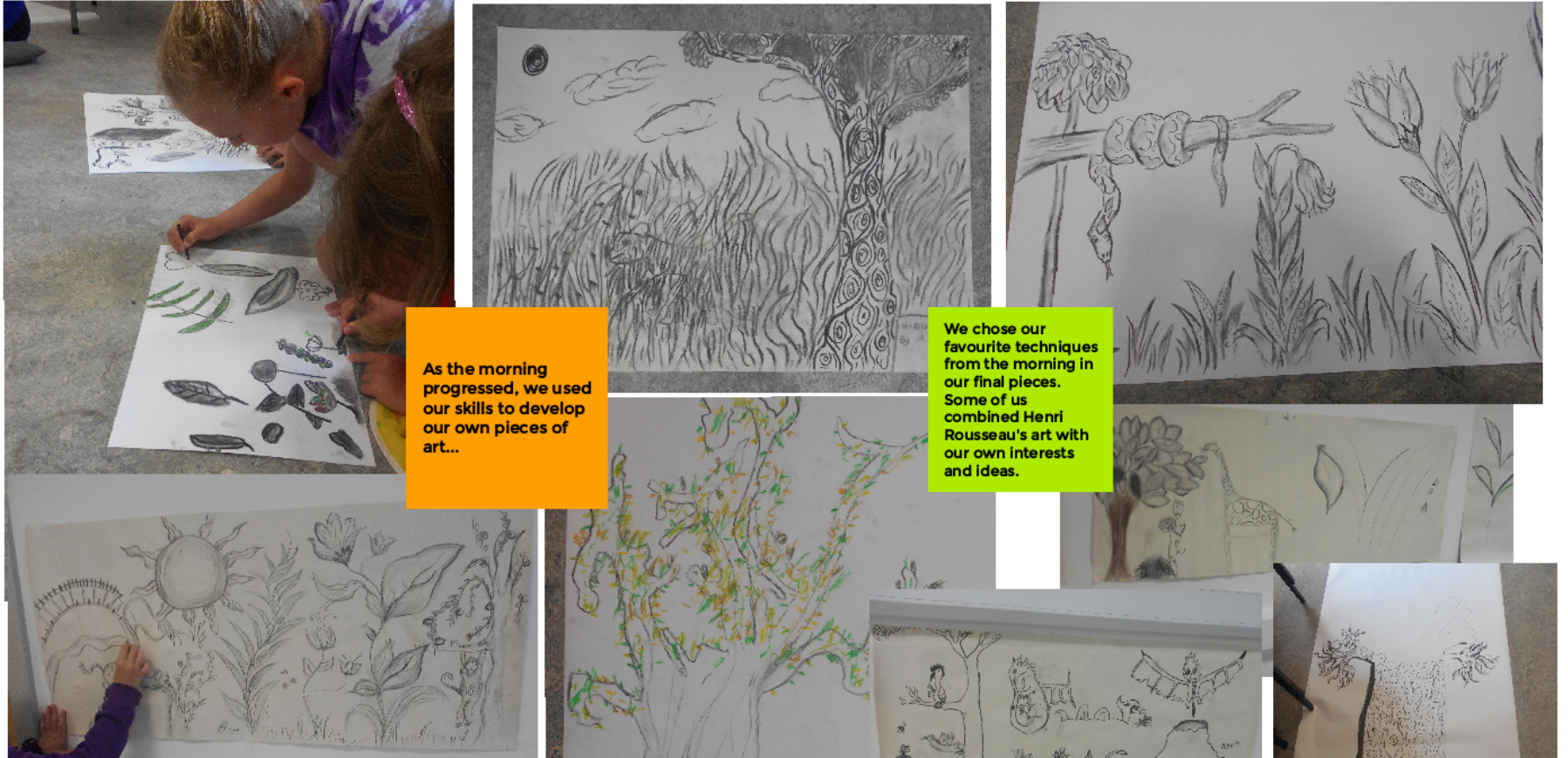 A Night at the Proms with TEAM Academy Trust - March 2023
Children from six of our schools came together at the Queen's Theatre, Barnstaple for a wonderful evening of song, dance and music. From Rock bands to Samba bands, Soloists and gymnasts our music teacher, Mrs Brayley, excelled herself with the superb quality of the show she put together. What super talented children!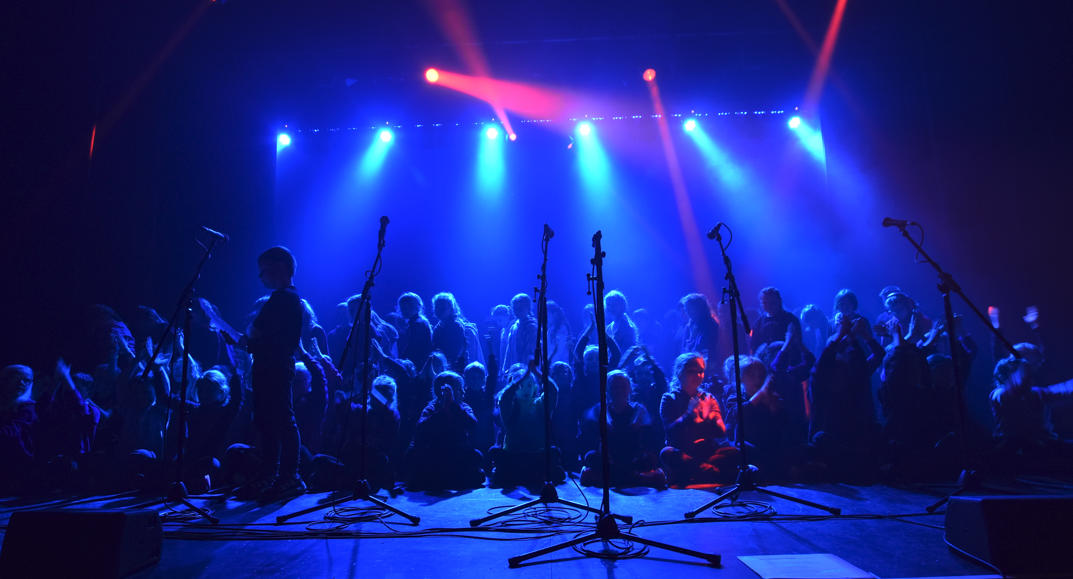 Voice in a Million at Wembley Arena - March 2023
A huge well done to the 40 Pilton Bluecoat Academy and Umberleigh Academy choir members who went to Wembley Arena in London to sing in the "Voice in a Million" concert. It was amazing to be in the arena filled with 6,000 school children all waving glow sticks, and singing and dancing together as well as an audience of about 5,000 - what an experience! A big thank you to the Green Man Charity (who raise their funds mainly from the Pilton Green Man Festival) for their considerable financial contribution to the trip which enabled us to reduce the cost of the trip for parents.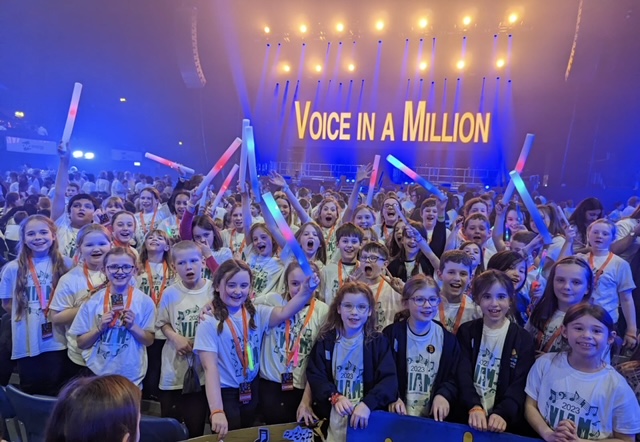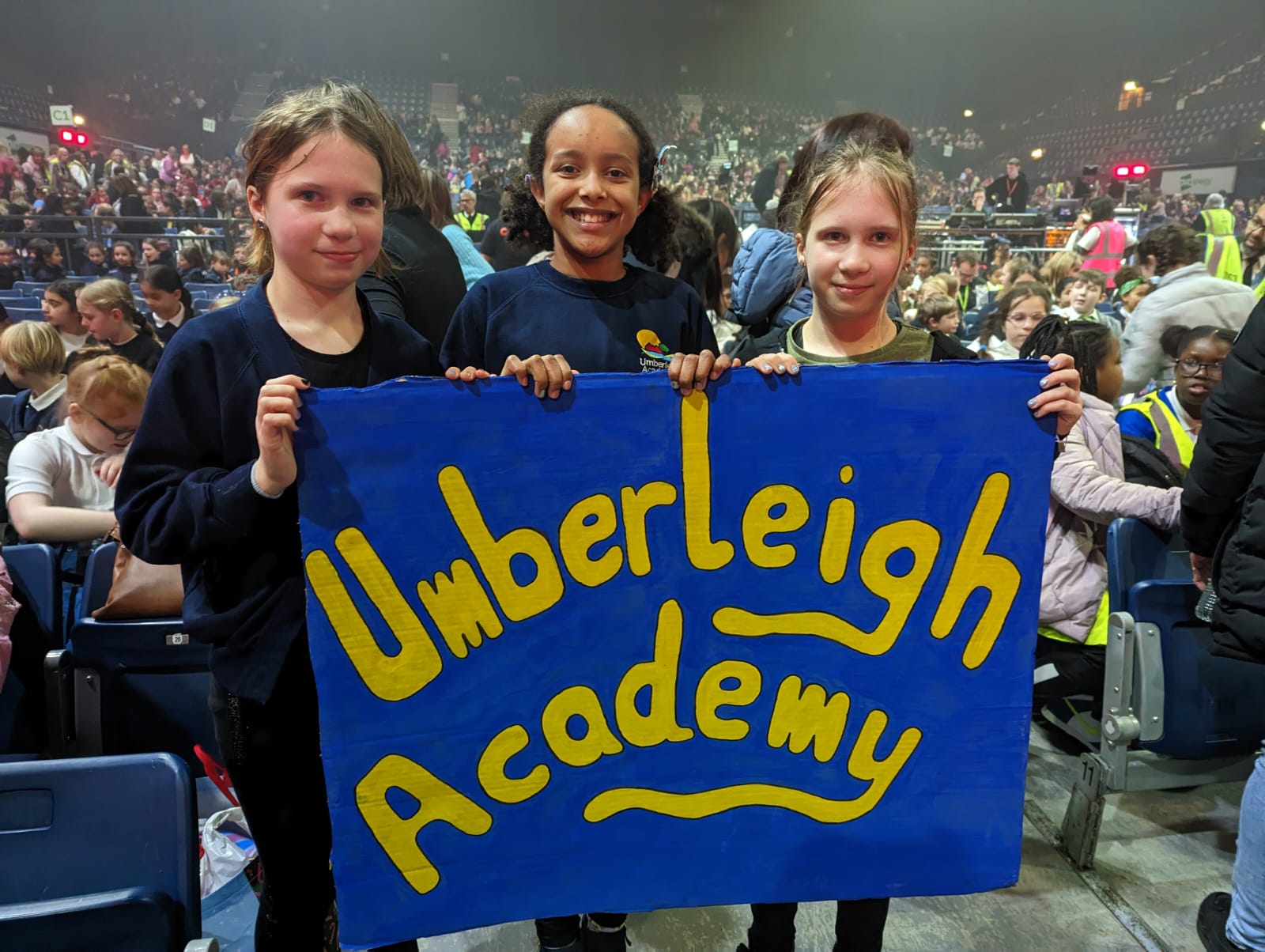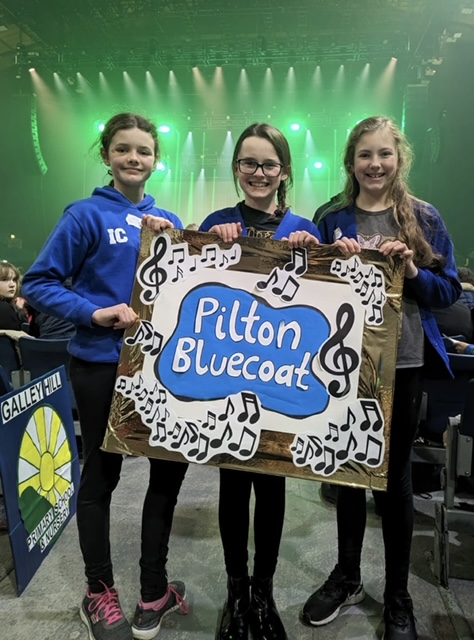 SPRING 2023
Super Head of Brayford Academy, Sara Leggott completes her 6 Major World Marathon dream!!
Head of Brayford Academy, Sara Leggott has been inspiring the children at her school with her amazing Marathon Endeavors.
We caught up with Sara on her return from Japan to find out how it all went.
Sara: "10 years of hard work finally completed! I was actually given 4 medals! The first was the Tokyo Marathon of 2020 medal as this was when we were initially due to go but were prevented by Covid, the second was this year's 2023 Tokyo medal, The Third was a Guinness world record medal as the race included the most runners to get their 6th star medal in one world major marathon. The fourth and final medal was my six star which is the medal I am most proud of. 10 marathons over 10 years and 6 were world majors. The meaning behind this is more than just races, it's an achievement in the 10 years since I lost my Dad"
How did the children of Brayford Academy get involved in your challenge?
The week before I went we did a "Japanese week" with the whole school. We tried Sushi, had our Trustee, Caroline in to talk about her experiences in Japan and to complete Japanese art with the children. We also ran a mini marathon on the Friday with the Marathon theme song playing in the background.
And Did you keep in touch while you were away?
While I was in Tokyo I took the infant class teddy 'Unimole' with me. I sent photos back every day to show where Unimole had visited. The day after I completed the marathon I video called the whole school. I shared my marathon experience, showed the medals and the Tokyo skyline!
Since coming back, I have been displaying artefacts I brought back to show the children. We have been talking about the experience and sharing photos and videos. We have been talking about respecting other cultures and have been discussing how Japanese culture compares to the UK.
The motto of the Tokyo Marathon 2023 is "One Step Together". I hope to inspire our children to take a step together to achieve their goals now and in the future.
Brayford Academy is part of TEAM Academy Trust, CEO, Ian Thomas said Everyone at TEAM Multi Academy Trust is incredibly proud of Sara's achievements. This event has provided the children with a unique opportunity to learn more about another culture and supporting local charities. They have also been able to learn about the importance of keeping physically and mentally fit.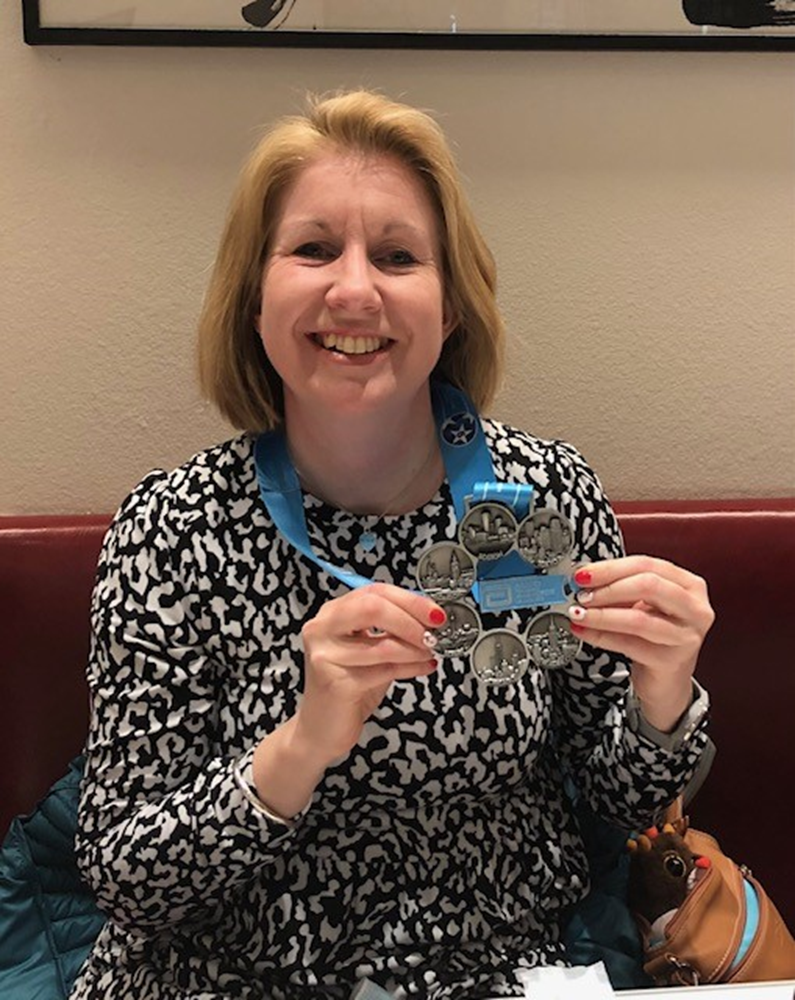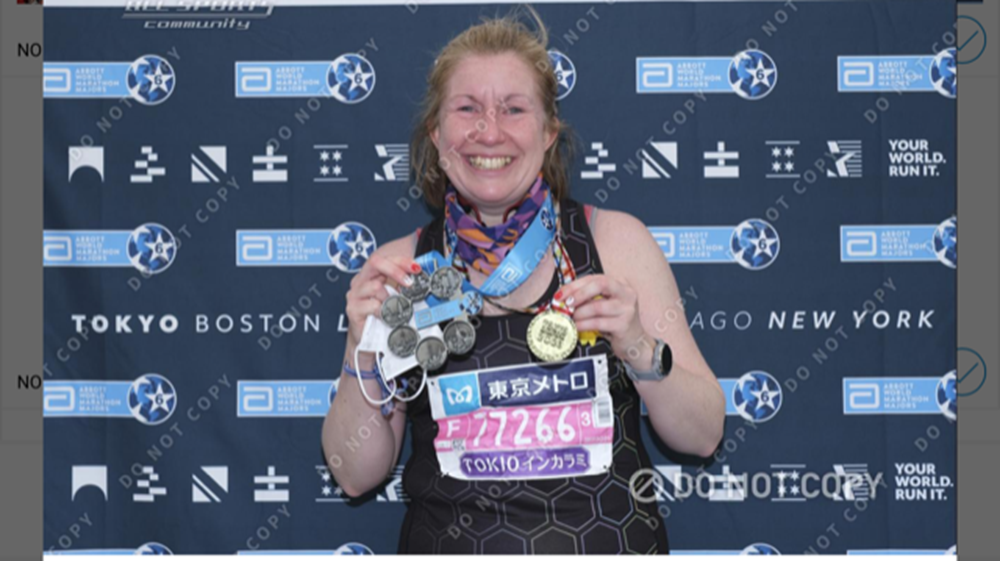 TEAM Residential to LONDON - February 2023
This term the Year 5 children from 7 of our TEAM schools enjoyed a fabulous few days away in London.
Pilton Bluecoat departed on the 31st January with highlights including a photo opportunity outside of No 10, Matilda the Musical, an Uber Boat ride down the Thames as well as the Science and Natural History Museums.
This trip was followed a few weeks later by the children from our 6 smaller schools. They too had a fabulous time and particularly enjoyed The Harry Potter studios, The Tower of London, London Zoo and a fun Night walk of the capital.
The children on the second trip enjoyed meeting and making new friendships, this is a great help for when they move onto secondary school when they recognise the new friends made on this memorable TEAM trip. We are already planning for next year's residential!

TEAM PE and Forest School SEND Day - January 2023
In January, we hosted our first-ever SEND PE Team Building event. The purpose of the event was to provide an opportunity for our children to meet, collaborate and compete with other children in our Trust. The first activity of the day was a simple but daunting one, the children had to independently create groups containing no more than 2 children from the same school. As soon as we had our groups, we split into two different activities.
The first of the activities was set up by Forest School lead Mr Wiggans who challenged the children to travel from one side of the field to the other using only a limited number of crates. Mr Wiggans also challenged the children to use a web of ropes to hook nuclear cylinders out of a toxic wasteland and into a safety box. Both activities required teamwork, communication, strategy and perseverance.
Whilst Mr Wiggan's group were busy, the other children were competing in a water filtering challenge. Mr Brayley challenged the children to collect natural resources in a pre-prepared plastic bottle to try and filter dirty water. In a race against time to get the water clear, the children had to be quick, strategic and work closely as a team. The cleanest water was the winner! In the end, the children worked together wonderfully and experimented with a wide range to clean their water.
All children came home with certificates for either winning their events or showing the best teamwork during activities!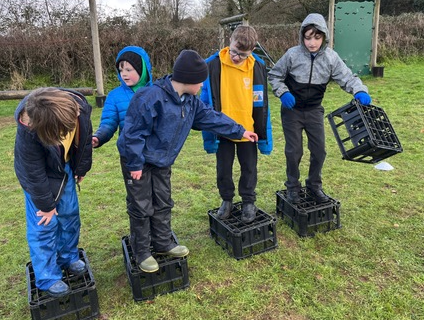 TEAM Multi-Academy Trust visit to Southampton FC v Arsenal FC in the Premier League - October 2022
On Sunday 23rd of October children from all TEAM schools visited St Mary's Stadium to watch Southampton take on Arsenal in the Premier League.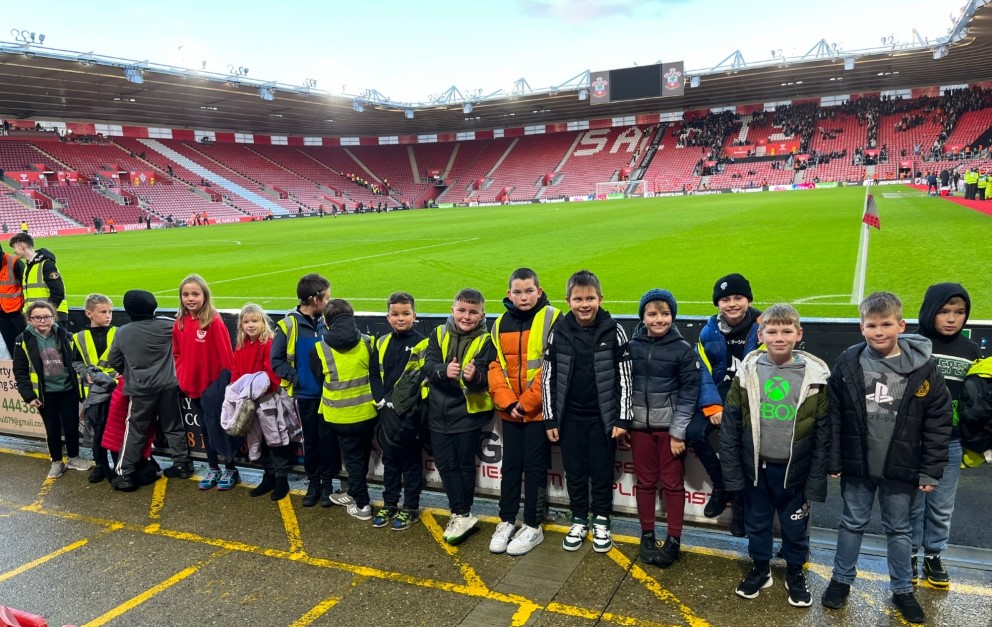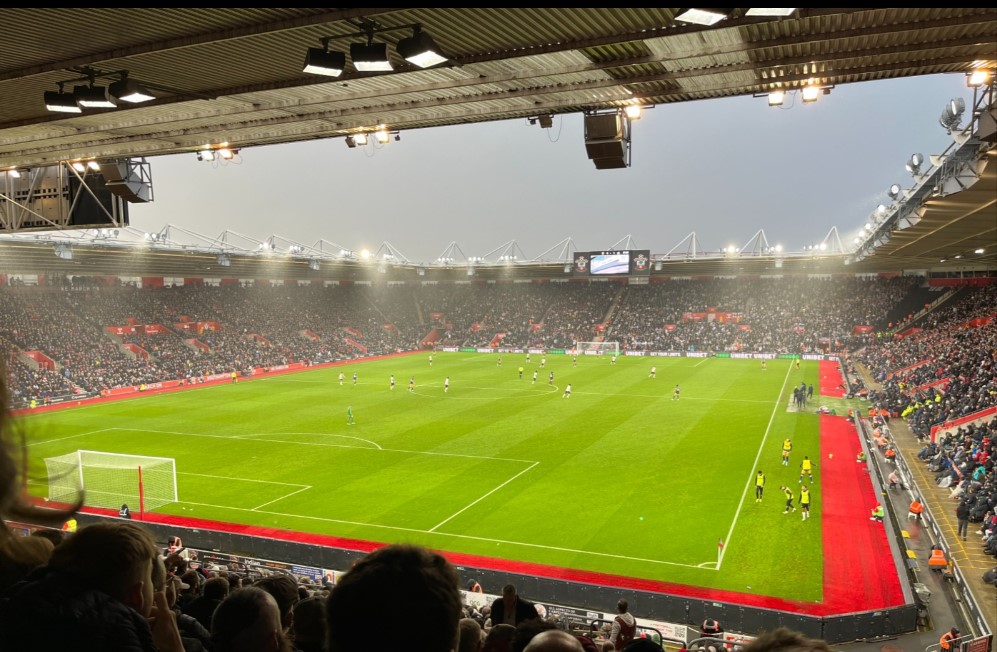 Southampton fans were pleased as the team picked up their fifth point in a week, becoming only the second Premier League team this season to deny Arsenal victory in an entertaining draw at St Mary's.
Arsenal might have held a more commanding lead than the 1-0 half-time advantage given to them by midfielder Granit Xhaka in the 11th minute, having squandered further chances as the league leaders started well.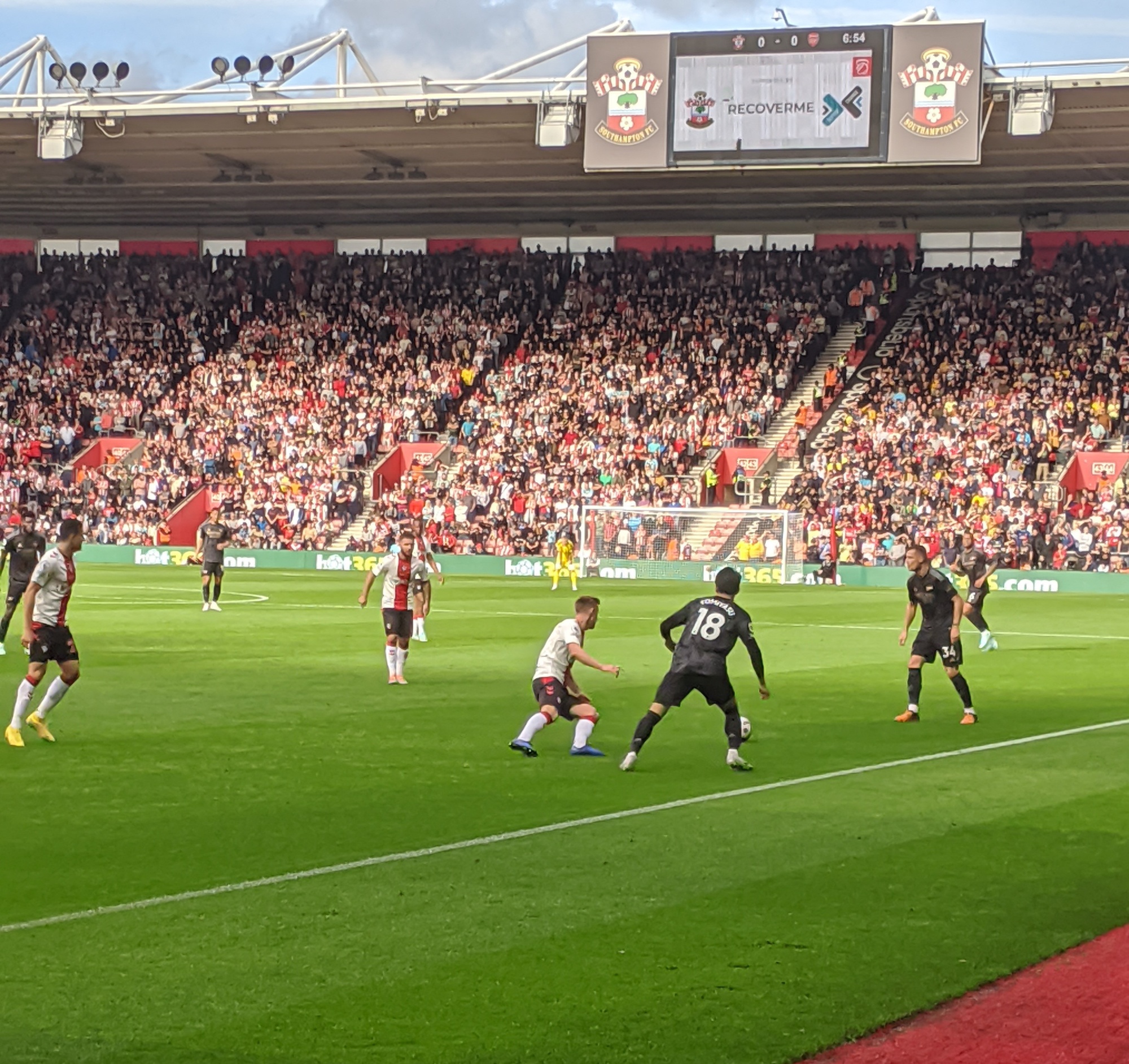 After the half-time interval, Southampton came up reinvigorated and drew level through Stuart Armstrong who scored his first goal of the season.

At the end of the game the children stayed behind to take photos and watch the players warming down. A great day was had by all!
TEAM Schools work with Beaford Arts on... A Voice to tell our story 2022
More than 300 children, 10 primary schools, 4 artists, 1 amazing project – A Voice To Tell Our Story.
Working with researchers from the University of South Wales and artists from North Devon, this exciting 3 year project, funded by Paul Hamlyn Foundation, aims to help the next generation in our communities to speak up, listen well, and have fun working together and learning through the arts.
The result? The creation of 12 original stories brought to life through the use of illustration, photography and film.
Since the start of 2020 Beaford Arts have been delivering 'A Voice To Tell Our Story' with Key Stage 2 pupils from 10 local primary schools, including 5 schools from TEAM Multi-Academy Trust, with each of the schools having been allocated 25 full days of working with professional artists in school.
This two phase project explored storytelling in four art-forms aimed at developing learning through the arts and inspiring greater confidence in speech, language and communication.
The first phase of the project involved storyteller Lisa Schneidau introducing storytelling as an artform through the sharing of stories and artist Caroline Preston exploring how art can be used to help evolve the stories.
During the second phase our classrooms were converted into a studio space and photographer Dave Green and filmmaker Matt Biggs set about supporting the children in bringing their stories to life through the use photography and film.
The result of the project is the creation of 12 original stories.
Click on the link below to view the short film
A Voice to tell our story - Summer 2022 film
Meeting King Charles III & the Queen Consort of the United Kingdom - July 2021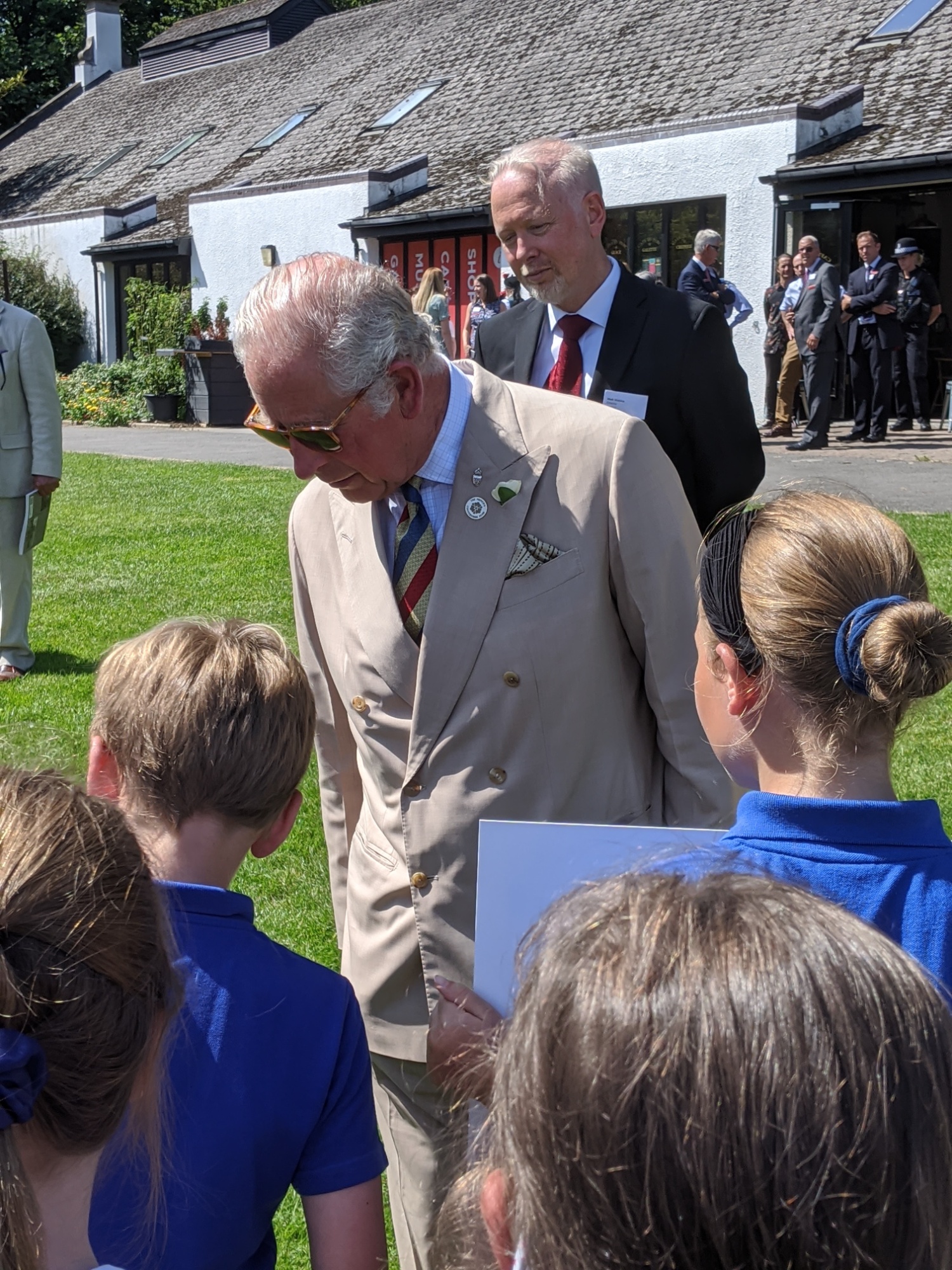 With the King's coronation being held in May 2023 we pause to reflect on the amazing experience some our pupils had in July 2021. All TEAM schools have been working with the educational team from Beaford Arts on a three-year project called the 'Voice to tell our Story'. The focus of the work centres on storytelling in four artforms aimed at developing creativity and inspiring greater confidence in speech, language and communication.
'A Voice To Tell Our Story', working with researchers from the University of South Wales and artists from North Devon, aims to help the next generation in our communities to speak up about what matters to them. The research team will help us share the results of this new creative approach with rural schools across the UK.
Our children were invited to share their work with King Charles III and Camilla when they visited the Burton Art Gallery as part of a three-day visit to the South West. The children were particularly impressed with the royal helicopter.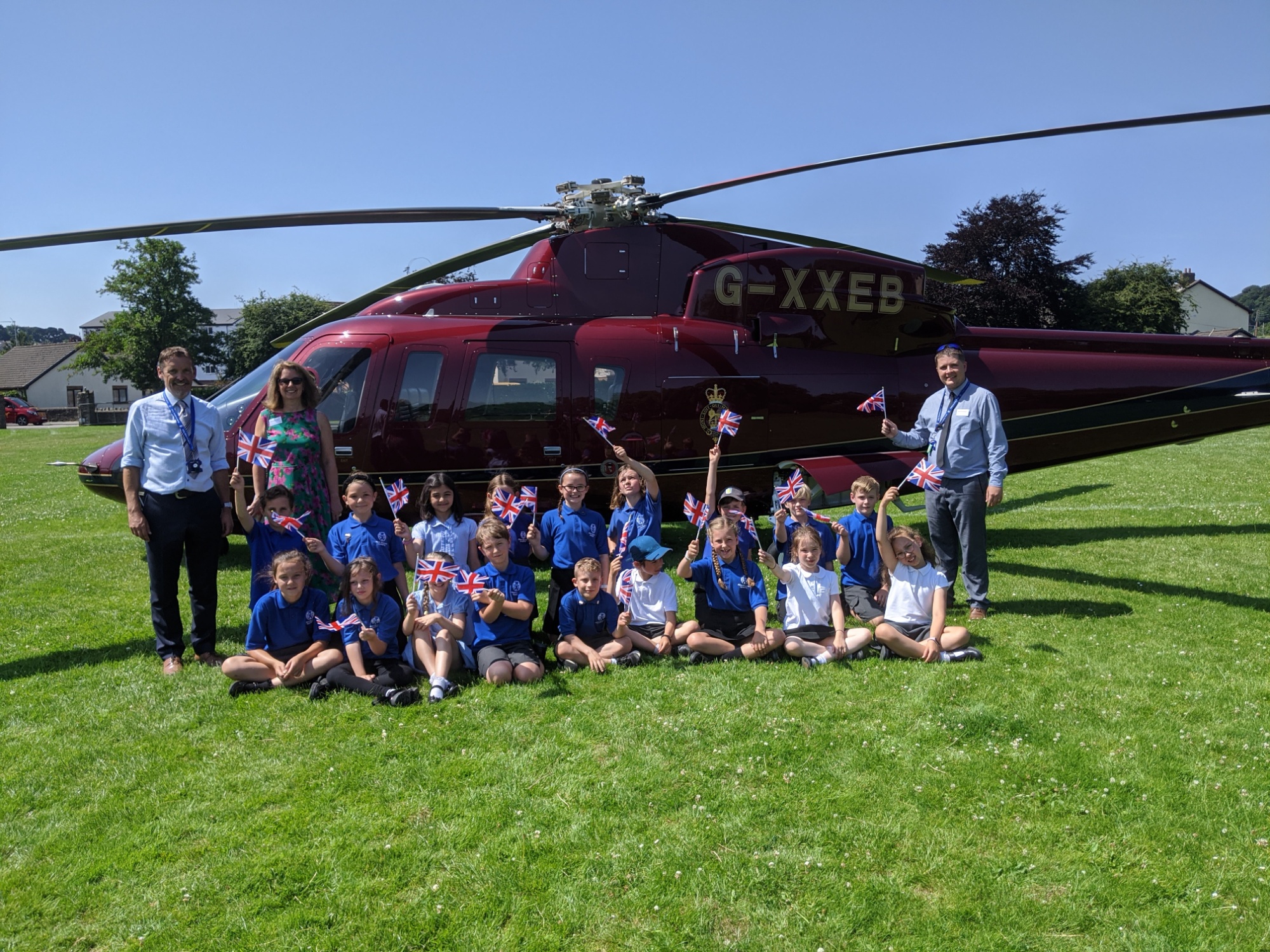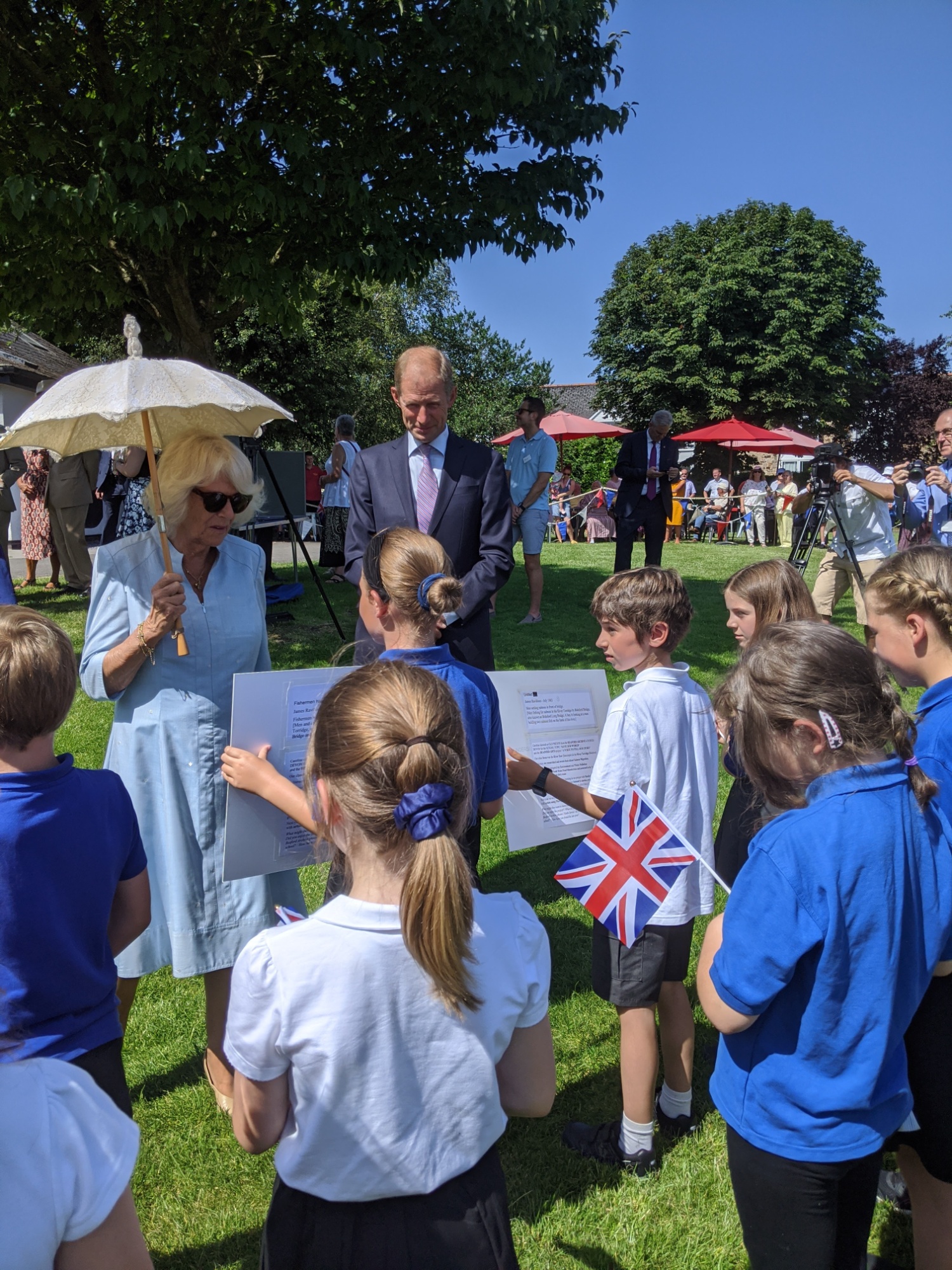 Another memorable event for TEAM Multi-Academy Trust.